Fiona

Fiona's featured movie poster.
Age
Twelve (book)
Sixteen (movie)
Gender
Female
Height
5'3
Hair
Red
Appearances
The Giver
Mentioned
Messenger (indirectly)
Portrayed by
Odeya Rush
Fiona is a character in The Giver. She was assigned to be a Caretaker of the Old because she is gentle and careful. She is cheerful and eager to help old people at the Home, and is also Jonas and Asher best friend, and is the main subject of Jonas's Stirrings. She has dark eyes like almost all of the others in the Community and has red hair.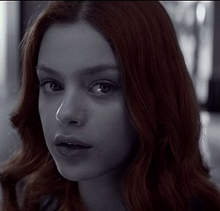 History
She is Jonas's and Asher's friend, and was assigned to be a Caretaker of the Old in her community. It was revealed she had red hair when Jonas had started seeing colors.
When Matty asks Leader (Jonas) if he ever loved a girl, leader tells him there was a girl once, when he was young. Matty questions her fate, and Leader replies that she changed.
Film Adaptation
Because in the movie light eyes have nothing to do with the Receiver of Memory, Fiona has light eyes instead of dark eyes.
In the movie adaptation of "The Giver", Fiona is portrayed by Odeya Rush.
Fiona is 16 in the film, instead of 12.
Since Larissa is taken out of The Giver movie, there is no longer a need for Fiona to be Caretaker of the Old, so she is a nurturer .
Fiona is adapted to be a love interest for Jonas in the movie and assists him with his and Gabe's escape. She is later apprehended for this and is nearly released before Jonas gives the memories back to the community.
Community content is available under
CC-BY-SA
unless otherwise noted.